JET "N" VAC - HYDRO EXCAVATORS
You Can 1)-Vacuum 2)-Hydro Excavate 3)-Leak Locator 4)-Power Wash
1) Vacuum -Up:
Storm Drains/Catch Basin Clean-Out
Valve Boxes Clean Out
Leaves, Trash, Small Gravel
Spills
2) Hydro Excavator:
Pot Holling
Fence Post Holes
Valve Locating and Exercising
Underground Utility Locator
3) Leak Locator:
This unit will punch vertical holes and through the frozen ground to find underground leaks.
4) Power Wash
Side Walk Cleaning
Building Cleaning
Gum Removal
Graffiti Removal
House Cleaning
Vehicle Cleaning
Etc.. Etc.......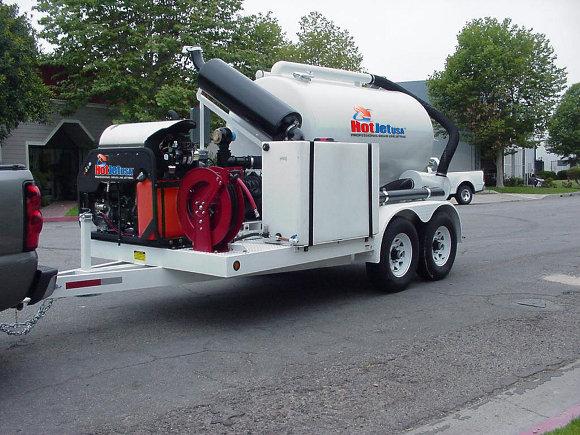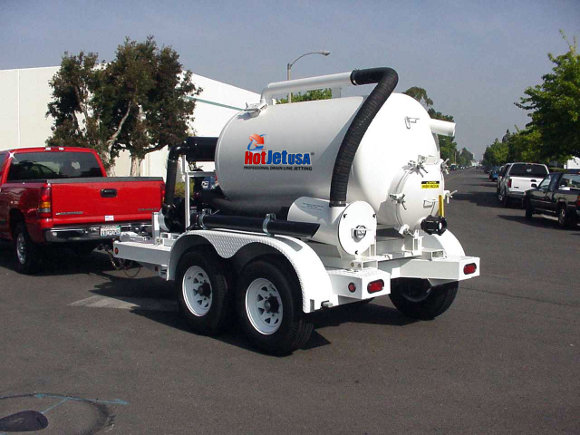 Industrial Vacuum Excavation Systems
These units are built to provide years of trouble free operation. These units can be built on trailers or skid mounted for truck installation. Ideal for cleaning out storm drains, valve boxes , and sewer drains.
All units feature:
All Steel 3/16" canister construction.
2 part premium epoxy finish plus a urethane top coat - inside and out.
Premium Roots positive displacement pumps (PD) fully belt driven.
3" or 4" pick up hose with moveable swivel handles.
Full opening rear hatch with mechanical lift or optional hydraulic "One Step".
1 piece multi stage washable filter system with "Centri-Clean".
Full hydraulic dump for ease of debris removal from storage tank.
Clean out port for ease of cleaning.
| | | | | |
| --- | --- | --- | --- | --- |
| Model | Vac. Pump & Lift | Filter (all washable) | Tank Cap | Engine (all air cooled) |
| HJVT-150 | 525 CFM and 15" | 8X24" 10 mic 75 mic pre filter Qty 1 | 150 gal | 25HP gas V twin Kohler |
| HJVT-220 | 525 CFM and 15" | 8X24" 10 mic 75 mic pre filter Qty 1 | 220 gal | 25HP gas V twin Kohler |
| HJVT-250 | 500 CFM and 15" | 8X24" 10 mic 75 mic pre filter Qty 1 | 250 gal | 25HP gas V twin Kohler |
| HJVT-350 | 525 CFM and 15" | 8X24" 10 mic 75 mic pre filter Qty 1 | 350 gal | 25HP gas V twin Kohler |
| HJVT-350HO | 825 CFM and 15 | 8X24" 10 mic 75 mic pre filter Qty 1 | 350 gal | 37HP gas Kohler |
| HJVT-500 | 525 CFM and 15" | 8X24" 10 mic 75 mic pre filter Qty 1 | 500 gal | 25HP gas V twin Kohler |
| HJVT-500HO | 825 CFM and 15" | 8X24" 10 mic 75 mic pre filter Qty 1 | 500 gal | 37HP gas Kohler |
| HJVT-500HOD | 825 CFM and 15" | 8X24" 10 mic 75 mic pre filter Qty 1 | 500 gal | 40HP diesel Hautz |
| HJVT-800 | 525 CFM and 15" | 8X24" 10 mic 75 mic pre filter Qty 1 | 800 gal | 25HP gas V twin Kohler |
| HJVT-800HO | 825 CFM and 15" | 8X24" 10 mic 75 mic pre filter Qty 1 | 800 gal | 25HP gas V twin Kohler |
| HJVT-800HOD | 825 CFM and 15" | 8X24" 10 mic 75 mic pre filter Qty 1 | 800 gal | 40HP diesel Hautz |
Available Options:
Trailer or skid mount
Air Compressor
Water Jet